2020 Convention Speakers
RMPA will hosting an excellent series of speakers this year at the convention.
As they are announced information will be provided on this page.
RMPA 2020 will kick off Thursday evening with a talk from Dr. Temple Grandin
BIO: Temple Grandin has been a pioneer in improving the handling and welfare of farm animals. Facilities she has designed for handling livestock are used by many companies around the world. She has also been instrumental in implementing animal welfare auditing programs that are used by McDonalds, Wendy's, Whole Foods, and other corporations. Temple has appeared on numerous TV shows such as 20/20. Larry King Live, and Prime Time. Her books include: Thinking in Pictures, Livestock Handling and Transport and The Autistic Brain. Her book Animals in Translation has been on the New York Times Bestseller List.
She was born in Boston, Massachusetts. Temple's achievements are remarkable because she was an autistic child. At age two she had no speech and all the signs of severe autism. Many hours of speech therapy, and intensive teaching enabled Temple to learn speech. As a teenager, life was hard with constant teasing. Mentoring by her high school science teacher and her aunt on her ranch in Arizona motivated Temple to study and pursue a career as a scientist and livestock equipment designer.
Dr. Temple Grandin obtained her B.A. at Franklin Pierce College in 1970. In 1974 she was employed as Livestock Editor for the Arizona Farmer Ranchman and also worked for Corral Industries on equipment design. In 1975 she earned her M.S. in Animal Science at Arizona State University for her work on the behavior of cattle in different squeeze chutes. Dr. Grandin was awarded her Ph.D in Animal Science from the University of Illinois in 1989 and is currently a Professor at Colorado State University.
Dr. Grandin has received numerous awards including the Meritorious Achievement Award from the Livestock Conservation Institute, named a Distinguished Alumni at Franklin Pierce College and received an honorary doctorate from McGill University, University of Illinois, Texas A&M, Carnegie Mellon University, and Duke University. She has also won prestigious industry awards including the Richard L. Knowlton Award from Meat Marketing and Technology Magazine and the Industry Advancement Award from the American Meat Institute and the Beef Top 40 industry leaders and the Lifetime Achievement Award from The National Cattlemen's Beef Association. In 2011, Temple was inducted into the Cowgirl Hall of Fame. In 2015 she was given the Distinguished Service Award by the American Farm Bureau Federation and Meritorious Award from the OIE. HBO has premiered a movie about Temple's early life and career with the livestock industry. The movie received seven Emmy awards, a Golden Globe, and a Peabody Award. In 2016, Temple was inducted into the American Academy of Arts and Sciences and in 2017 she was inducted into the National Women's Hall of Fame in Seneca Falls, New York.
Thank you to the amazing 2019 Convention Speakers!
Dr. Diane F. Halpern, 2019 Speaker, Claremont McKenna College, Emerita, Title of Talk: Teaching is a Political Act: Who Decides What We Need to Know?

Dr. Cathy Faye, Psi Chi Distinguished Lecturer, Cummings Center for the History of Psychology, The University of Akron, Title of Talk: Back to the Future: Exploring Psychology's Past, Reimagining Psychology's Future

Dr. Salif Mahamane, Gardner Memorial Speaker, Western Colorado University, Title of Talk: Spatial discounting in Canis latrans as affected by human threat, sex, and the breeding cycle

Dr. Regan Gurung, RMPA Distinguished Lecturer, University of Wisconsin-Green Bay, Title of Talk: Wearing Out Your Welcome: Clothing, Prejudice, and Sexism

Dr. Alexandra Rutherford, Teaching Conference Keynote Speaker, York University, Toronto, Title of Talk: Who has made history in psychology? Strategies for inclusive pedagogy

Dr. Connie J. Beck, RMPA Distinguished Lecturer, University of Arizona, Title of Talk: Intimate Partner Violence: Findings from Family Law Mediation Research

Dr. Shari E. Miles-Cohen, Diversity Keynote Speaker, Senior Director, Women's Programs Office, American Psychological Association, Title of Talk: Cultivating Community: The subversive nature of leadership development for girls and women.

Dr. Brian Parry, Dr. Justin Gollob, & Dr. Tim Casey, Bell-Loomis Symposium

Dr. Judith A. Sugar, RMPA Past-President Address, University of Nevada-Reno, Title of talk: The Longevity Dividend

Dr. Anne Duran, Distinguished Alumni Address, California State University -Bakersfield, Title of talk: The Accidental Social Psychologist

Dr. Roxanne L. Sullivan, RMPA President Address, Bellevue University, Title of talk: Respect for Psychology as a Science as Higher Education Becomes More Corporate

Dr. Susan Burns, Worth Publishers (Macmillan) Speaker, Vice President for Academic Affairs and Dean of the Faculty at Clarke University in Dubuque, Title of talk: Teaching Sex and Gender Beyond the Binary

Jerome D. Hoover & Dr. Alice F. Healey, Ellis-Battig Memorial Symposium, Title of talk: The Bat-and-Ball Problem, Error Sensitivity, and Conscious Representation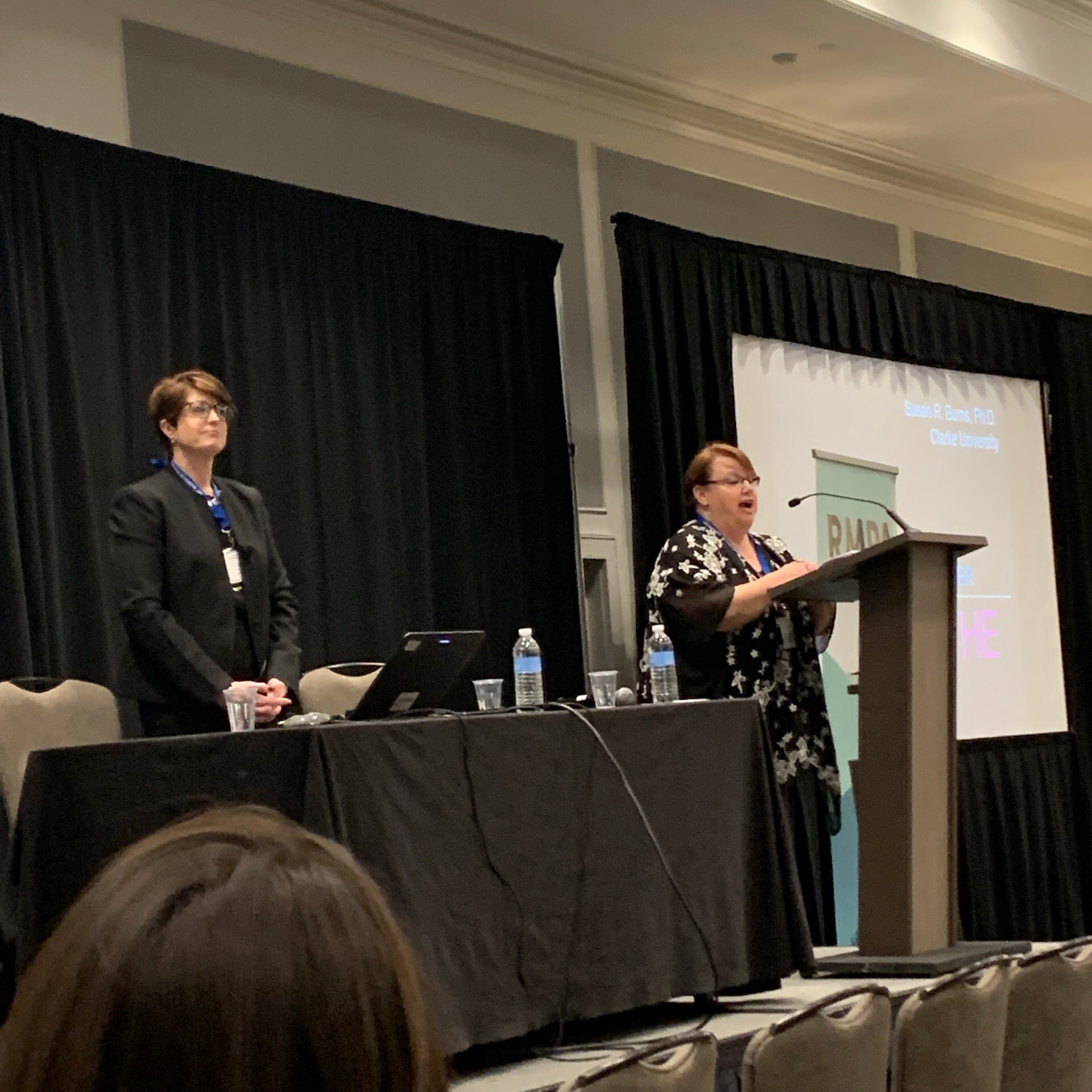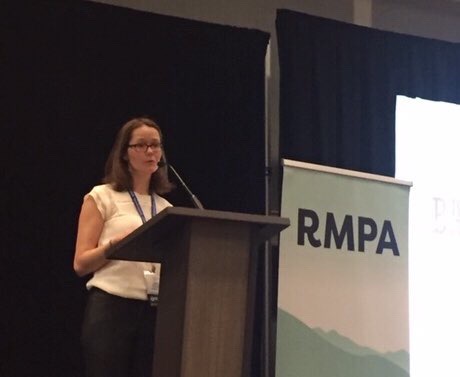 Thank you to the outstanding 2018 Convention Speakers!
Distinguished Alumni Speaker: Robert Morgan, Ph.D., His talk was titled: Beyond Pop Culture: The Application of Science in Forensic Psychology

Teaching Conference Keynote Speaker: Wayne Viney, Ph.D., His talk was titled: William James as a Teacher: Some Lessons from History about Teaching

Diversity Speaker: Tania Israel, Ph.D., Her talk was titled: Four Ways Psychologists Can Participate in Social Change

Past-President Address: William Douglas Woody, Ph.D., His talk was titled: Finding the Roots of the Hoffman Report: The Psychology of Coercive Interrogation from the Cold War to Guantanamo

Gardner Memorial Lecture: Con Slobodchikoff, Ph.D, His talk was titled: Animal Signals: From Communication To Language

Psi Chi Distinguished Lecturer: Nadine J. Kaslow, Ph.D., ABPP, Her talk was titled: Uniting Psychology for the Future

RMPA Distinguished Lecturer: Steve Lindsay, Ph.D., His talk was titled: Replicability in Psychological Science

Continuing Education/Professional DevelopmentSpeaker: Sally Spencer Thomas, Ph.D., Her talk was titled: Innovation in Men's Mental Health: Using Humor, Media and Digital Engagement to Promote Mental Health and Prevent Suicide for High Risk Men

RMPA Invited Speaker: Fred Coolidge Ph.D., His talk was titled: Neanderthals: Who were they, Why did they go Extinct, and What can Psychology tell us about them?

President's Symposium: Susan Becker Ph.D., Matthew Genuchi Ph.D., & Jeffrey Rings Ph.D., Their talk was titled: The Role of Psychological Science in Suicide Prevention

Worth Publisher Speaker: Susan Nolan, Ph.D., Her talk was titled: Critical Thinking and Diversity: Using News (and Fake News!) to Make Your Courses More International and Multicultural

APA Distinguished Scientist Lecturer: Brent W. Roberts, Ph.D., His Talk was titled: The long and short of personality stability and change

Ellis-Battig Memorial Symposium: Lori E. James, Ph.D., Chair: Aaron Richmond (arichmo3@msudenver.edu)